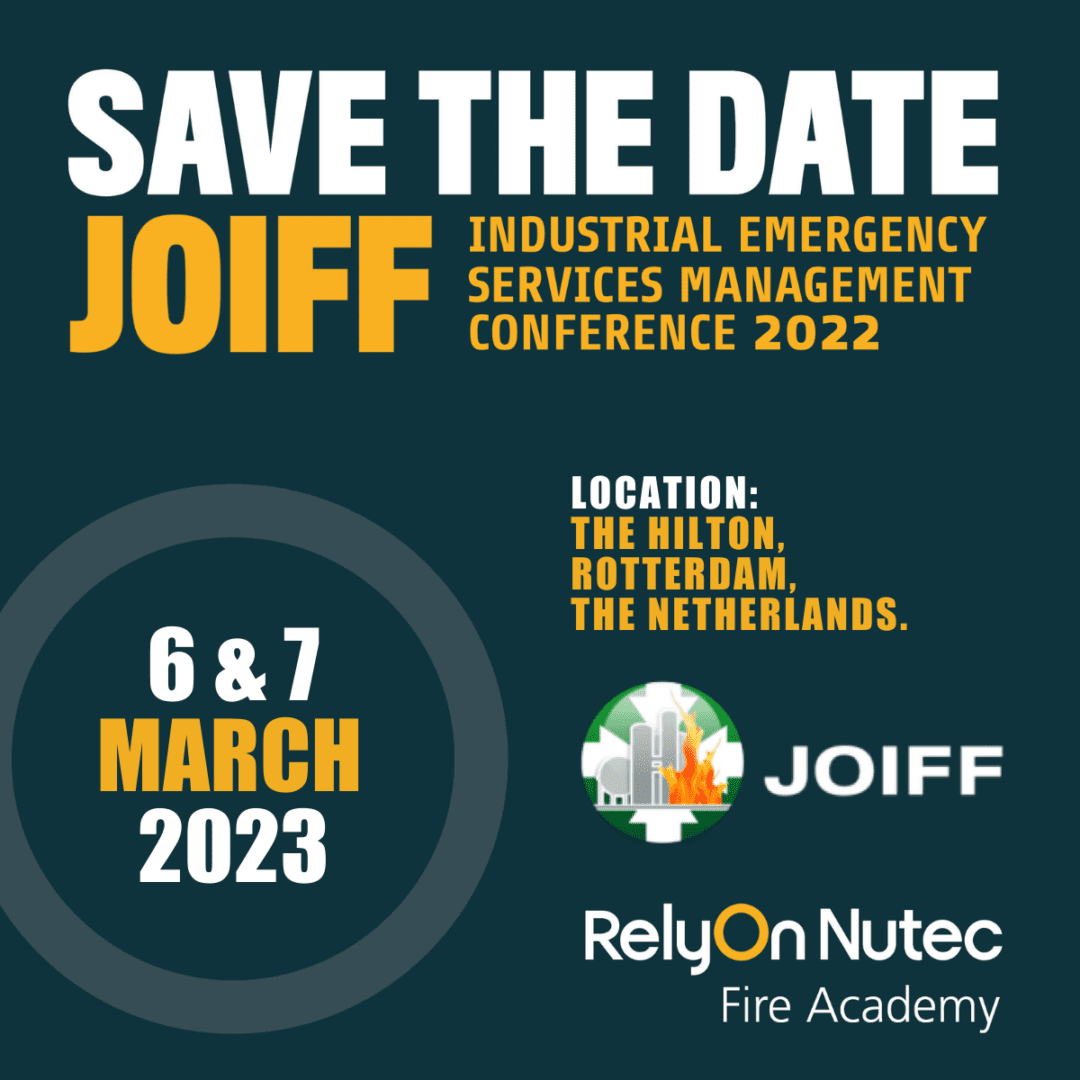 JOIFF Industrial Emergency Services Management Conference 2023
JOIFF In association with RelyOn Nutec are pleased to announce The JOIFF Industrial Emergency Service Management Conference 2022 will take place on March 1st & 2nd 2022 at the Hilton Hotel – Rotterdam – The Netherlands.
World Class Presentations, Unique Face To Face Networking, Direct Contact With Suppliers & Industry Specialists, Live Fire Demonstrations
As part of the ongoing Shared Learning commitment to the high hazard industry JOIFF are pleased to announce that we will be hosting the JOIFF Industrial
Emergency Management Conference 2022 in Rotterdam, The Netherlands 1st & 2nd March 2022.
This will be both a live in person event and also a hybrid/virtual event with global subject matter experts from around the world presenting on the subjects that matter most to the Industrial Emergency Services Management Specialist.
Plus live demonstrations at the RelyOn Nutec Fire Academy.
To ensure that this unique Shared Learning is available to everyone JOIFF will not be charging delegates a registration fee to attend this Conference.
(Does not apply to travel, accommodation or refreshments outside of the Scheduled Conference)
World class presentations, unique face to face networking, direct contact with suppliers and industry specialists.
There are 20 international speakers covering the full range of Industrial Emergency Management topics over the 2 day Conference
Latest technical advances, case studies, technical presentations, live demonstrations,
suppliers presentations & supplier exhibition.
Who Should attend:
Fire Engineers – Fire Safety Consultants – Fire Risk Consultants – Occupational Safety Managers Process Safety Managers – Safety & HSE Managers – Emergency Services Personnel – HSEQ Managers Risk Managers – Emergency Response Personnel – Security Managers – Operations Managers
Industrial Safety Managers – Inspection & Training Managers
FOR DELEGATE REGISTRATION PLEASE click here